QUEBEC SKILLED WORKER PROGRAM (QSWP)
The Quebec government works with the Federal Government of Canada to manage the QSWP, or Quebec Skilled Worker Program. It provides a route for highly educated and trained foreign citizens to immigrate to Canada and enter Quebec as skilled workers.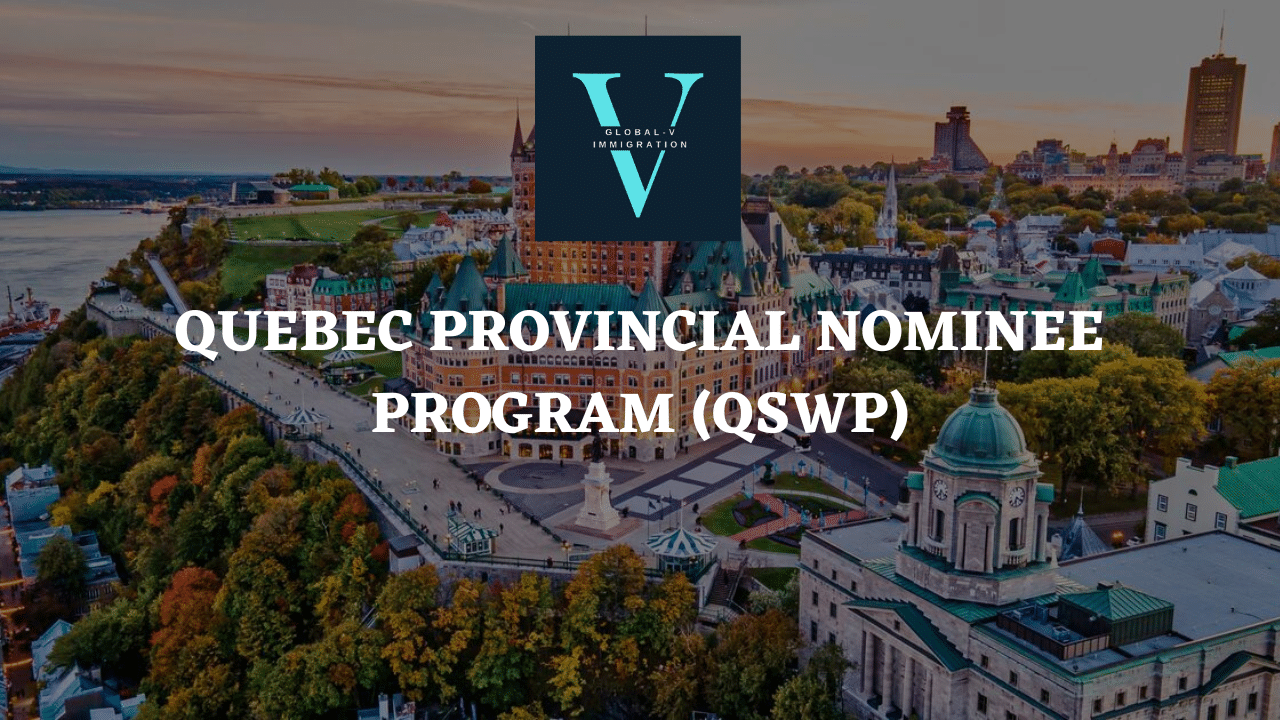 Candidates for immigration who apply for the QSWP are evaluated using a grid of selection criteria. A CSQ – Quebec Selection Certificate is given to applicants who earn a sufficient number of points, and they can use it to apply for a Canada PR Visa.
The Quebec Immigration Department operates separately from the IRCC. Canada's province of Quebec does not take part in the Express Entry programme and does not actively seek out eligible immigrants through the Express Entry draw.
Direct applications should be made to the Governing Board of Quebec by parties involved. You must first file an EOI Expression of Interest to the Quebec Ministry of Immigration (Ministre de immigration) if you want to come and stay in Quebec. Upon receiving an invitation to submit an entry for permanent choice, you will be informed that your credentials and/or talents fulfil the province's standards. It should be noted that French language proficiency receives noticeably more points than English language proficiency.
What various Quebec PNP immigration programmes are there?
Through the Immigration Act of Quebec of 2016 and the Immigration Regulation of Québec of 2018, the Government of Quebec has made a number of adjustments to its immigration programmes.
The following are the main components of the new immigration programmes:
Launch of the ARRIMA immigration system, which will replace the previous system with an EOI – Expression of Inter for applicants under the skilled worker category.
First-arrived-first-processed system for skilled workers' selection grid that allots points for a job offer across various Quebec areas
Skilled worker selection matrix allocating points for job offers in several Quebec regions
Extending the Québec Experience Program (QEP) would allow people to work in Quebec at any skill level, along with their de facto husband or spouse
Launch of Entrepreneur Pathway for business owners who get assistance from a university's entrepreneurship centre, incubator, or accelerator
The Quebec Investor Program's increased net worth and investment requirements
Launch of programmes for self-employed workers and entrepreneurs for security and startup deposits
Every year, Quebec chooses the majority of immigrants from abroad through the Economic Class, which comprises of the five following programmes:
Quebec Skilled Workers Program
The foreign national relocates to Quebec in order to hold the employment that they may be qualified to hold. This is primarily decided based on the candidates' backgrounds, qualifications, and other selection criteria.
Quebec Experience Program
The overseas national who has completed a minimum of 50% of the programme duration in Quebec and can demonstrate proficiency in the French language at the intermediate-advanced level through standardised tests. This individual must have worked in Quebec for 1 year within 2 years of the application date or obtained a qualified diploma from an educational institution there within 3 years of the application date.
Apply for Quebec Entrepreneur Program
The foreign national who submits an application for the Quebec Entrepreneur Program must run a company that was founded solely or in partnership, and have received a service offer from a university entrepreneurship centre, incubator, or business accelerator, or create a company with 25% ownership, or purchase an existing company with at least 51% ownership.
Quebec Investment Program
Foreigners who have:
2 years of suitable management experience within the five years prior to the application.
Possesses, alone or together with his accompanying de facto spouse or spouse, assets with a minimum net worth of $2,000,000 that were legally acquired but do not include recent gifts.
A commitment to invest $1,200,000 over a five-year period in a project that has been given the green light.
Quebec Self-employed Worker Program
The foreign national comes to Quebec to work as a self-employed worker in a profession that is listed in the NOC, or National Occupational Classification.
Points are used to determine which immigrants belong to the Economic Class. With a Ministerial Order, the Quebec Immigration Department (MIDI: Ministre de l'immigration, de la diversité et de l'inclusion) generally enacts the following laws:
The maximum number of points which can be given for each selection factor
The ability to establish, remove, and/or alter the minimum requirements that applicants must meet in each of the criteria used to choose immigrants from each class
The ability to retroactively adopt adjustments that will be applicable to applications submitted before the amendment but before they reach a specific stage of the evaluation process
According to the present immigration plan, Quebec province has the legal right to admit 50,000 immigrants a year. This includes about 30,000 immigrants who fall into an economic class in Ontario that is much higher than any other province in Canada. The number of immigrants expected to be admitted to the province overall for the following year is detailed in MIDI's annual report, which is presented to the National Assembly of Quebec each year.
Quebec Immigration Procedure
Each Quebec immigration programme has unique eligibility requirements More specifically, the invitations are based on three main categories, which are as follows:
The QSWP strives to choose applicants who have the best chance of successfully establishing themselves economically in Quebec. If their profession is in high demand in Quebec, overseas applicants who lack intermediate-advanced French language skills have the best chance of being accepted under the QSWP.and application processes. The two-step QSWP is the most well-known route to permanent residence in Quebec.
Phase 1: Get the CSQ – Quebec Selection Certificate
Prior to applying, candidates must submit an online EOI using the ARRIMA site. The ITA will be made available by MIDI for permanent selection to the highly qualified individuals. Within 60 days of receiving the ITA, candidates must submit an online MIDI application through Mon Projet Quebec in order to be considered for permanent selection. The selected candidates are given the CSQ – Quebec Selection Certificate if it is authorised.
Phase 2: Application for PR – Permanent Residence
Following receipt of the CSQ, the applicants can submit an application for the Canada PR Visa with Immigration, Refugees and Citizenship Canada (IRCC) in the capacity of a skilled worker chosen by Quebec. After proper verification, IRCC may grant the Canada PR visa. The Federal Government's involvement in the assessment of Quebec's application for a PR Visa is primarily limited to matters of criminality and health.
The Expression of Interest
The EOI – Express of Interest system was introduced by the MIDI in 2018 to speed up the application procedure. It is now necessary for prospective applicants to express their desire to immigrate to Quebec by submitting an online dating profile to the province's EOIB (Expression of Interest Bank).
What does ARRIMA Portal mean?
ARRIMA, a new online resource, is intended for people who want to immigrate to Quebec using the QSWP. The previous application method, which operated on the first-come, first-served concept, was successfully ended. Candidates can always submit their free EOI using the platform, which is open all year round.
Everyone who is at least 18 years old is qualified to submit an online EOI. According to MIDI, candidates are chosen from the EOI Bank based on standards that describe their profile with regard to employability and their contribution to the development of the French language.
More specifically, the invitations are based on three main categories, which are as follows:
The QSWP strives to choose applicants who have the best chance of successfully establishing themselves economically in Quebec. If their profession is in high demand in Quebec, overseas applicants who lack intermediate-advanced French language skills have the best chance of being accepted under the QSWP.
Human Resources age, academic level, and French language ability.
Ability to obtain employment in Quebec having a legitimate job offer, earning a degree in Quebec, or holding the status of a provisional worker with at least six months of work experience there.
Needs of the evolving job market training programmes in occupations where there is a labour shortage.
The QSWP strives to choose applicants who have the best chance of successfully establishing themselves economically in Quebec. If their profession is in high demand in Quebec, overseas applicants who lack intermediate-advanced French language skills have the best chance of being accepted under the QSWP.
The Portal for Mon Project Quebec
Applicants who get a CSQ application invitation will be directed to a secure area of the Quebec web Mon Projet. They will then be able to submit their application in its entirety and pay the necessary costs for approval within the allotted three months. Applicants can also monitor the progress of their applications. When the application is prepared for review, MIDI will send a customised list of required papers.
How many points is required for Quebec PNP?
The applicants must make sure they meet the criteria for passing scores under the grid in order to be selected at this point.
For single applicants, the employability cutoff is 43 points. Here, qualifications taken into account include education, age, employment offer, professional experience, family and Quebec trips, and language competency.
Financial independence as well as the presence of children earn additional marks. 50 points are the minimum need to qualify under the QSWP.
Applicants who are married also have their spouse's age, education level, and level of French proficiency taken into consideration. The cut-off scores for employment and QSWP selection are both higher; for employability, they are 52 and 59 points, respectively.
What is the process of submitting documents for QSWP?
Within three months of the date on which the tailored checklist was received, the necessary documents must be provided. MIDI places strict formatting criteria on the materials submitted by candidates.
What is the Processing time for Quebec PNP?
There are two processing windows for the Quebec Skilled Worker programme:
The time required to get the CSQ from Quebec's Immigration authority
The amount of time required to receive a Canada PR visa from the federal immigration authorities of Canada (15 to 17 months).
What are the most in-demand professions in Quebec?
The Quebec Skilled Worker Program's main component, the Fields of Training List, is routinely updated by the provincial government of Quebec. The list outlines a wide range of courses that award applicants, as well as their de facto spouse or spouse, points for diplomas gained outside of Quebec, within Quebec, or that are deemed to be on par with Quebec credentials.
The QSWP seeks to choose applicants who have the greatest chance of establishing themselves economically successfully in the province of Quebec. If a candidate is from outside Quebec and does not possess intermediate French language skills, the Quebec vocation In Demand list gives them the best possibility of being accepted under Quebec immigration laws.
The High Demand Occupation List for immigration to Quebec is presented in part here:
Management Jobs Business
Administrative jobs
Financial Jobs
Jobs in the Natural and Applied Sciences and Related Professions
Jobs in the Health
Occupation in Government Service, Religion, Social Science, and Education
Occupations in Recreation, Sports, Art, and Culture
Occupations in Sales and Service
Equipment Operators, Trades and Transport and Correlated Occupations
Occupations Exceptional to Manufacturing, Processing, and Utilities
Eligibility of Quebec PNP
 The Quebec immigration eligibility factors are:
Frequently Asked Questions
There are several benefits that you and your families can get. Some of the most important benefits are:
Easy immigration - Quebec immigration is one of the simplest and fastest immigration pathways.
Diverse population - The cultural diversity offers a very healthy environment. Quebec values are ideal for raising a family.
Healthcare - You get access to the same healthcare facilities as other citizens with permanent resident status.
Education - Quebec has a brilliant educational system. The educational system comes with a wide range of courses available to everyone. Therefore, it is great for international students. Students graduating from Quebec can work here, as they now belong to the Quebec Experience class.
Work opportunities - There are ample work opportunities available for foreign nationals. You get complete access to the labor market. Foreign students can also look for employment opportunities here.
Quick passage - Quebec immigration is the most convenient method of immigrating to Canada.
Eco-friendly - Quebec is one of the pollution-free regions in the world.